SOBO is an International rock-n-blues project integrating American, Russian and Middle Eastern influences.
Based in the Holy City of Jerusalem, SOBO has an International Message of Freedom.
SOBO is legendary in Israel for its powerful and energetic mix of blues, rock, R&B and funk coupled with a unique sound of slide guitar.
SOBO does a variety of traditional blues classics and well known rock classics as well.
SOBO does their own original songs which have a bluesy flavor, and is constantly working to produce more.
Whether they're playing a cover tune or an original, that SOBO "crunch" is ever present.
---
Assaf Ganzman – vocals, bass guitar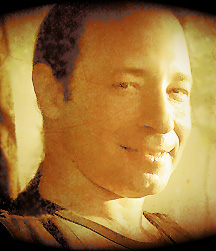 Was born in Haifa Israel in 1969.
His family relocated to New York city in 1972.
Assaf started to take guitar lessons at age nine.
When he was twelve he went to the studio and recorded an album of Beatles and Eagles covers.
After winning a local talent contest with an original song called "Witches Night Out".
His carly influences were: The Rolling Stones, Beatles, Simon and Garfunkel and Aerosmith.
When Assaf was 15 his family moved back to Israel and situated in Jerusalem.
In those days Assaf was the singer of a local band called "Skoop" that did mostly pop rock covers, Dire Straits, Duran Duran, what can you say it was the 80″s…
At age 17 Assaf joined a local band called "China Black" wich had moderate seccess.
This band was responsible for getting him back to his Rock'n'Roll roots.
When he was 19 Assaf was drafted into The Israel Defense Force, where he was Drill Sergeant in a fighting unit.
After finishing his service with an honorable discharge he put together a band called "Noah's Ark". They played regularly at the UNDERGROUND in Jerusalem.
At age 22 Assaf moved to Nashville Tennessee to rejoin his friends from "China Black".
While living in Tennessee Assaf was not active musically in any bands but did allot of listening and practicing.
At age 23 he moved to Darien CT for one year.
When he was 25 he decided to move back to Jerusalem, where he met Daniel Kriman and started playing blues.
They formed SOBO soon after. During this time Assaf also played in other local bands: Aliens, Blue Steel, Sammy Secret Soiree.
Today Assaf lives in Modein, he owns a chain of bars named

Daniel Kriman – slide guitar, harmonica, back vocals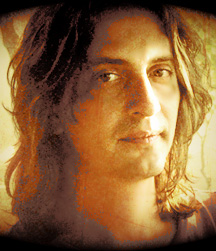 Was born in St. Petersburg, Russia in March 1973.Lives in Jerusalem, Israel.Began to play guitar at the age of 12. Had studied piano for five years. Could play trumpet as well.
Hi started his musical career in high school as a bass player.
In college his band "COSA NOSTRA" already appeared in some festivals in St. Petersburg, Tallinn and Moscow.
The biggest one was underground festival "Rock-Siroc" that took place in Moscow in 1991.
In the winter of 1992 Daniel made his move to the Holy Land. He found him self in Jerusalem that was covered by snow.
After the snow melted, Daniel began "busking" on the famous Ben-Yehuda St.
It was the time of the big wave of repatriation from USSR, and the streets began to fill up with musicians, so he was, actually, one of the first street musicians in Jerusalem.
In 1994 Daniel Kriman could've been seen in Mike's Place for the first time. The rest is history…
Eden Bahar – drums, back vocals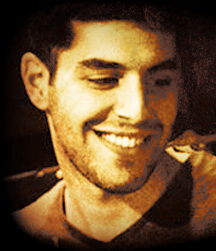 Eden Bahar was born in Israel in 1992 to musical parents and began to play the drums when he was only 3 years old.By the time Eden was 8 years old, he was already performing publicly with his father Yaron Bahar, a renowned pianist and producer.At the age of 12 he began studying at the Tel Aviv School of Arts, while performing as a professional drummer.
Eden has been the most influenced by classical music, which is what makes his drumming style unique.
---
Past members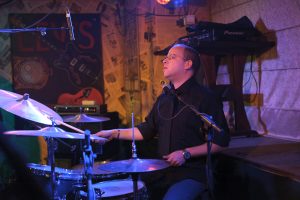 ---